You are here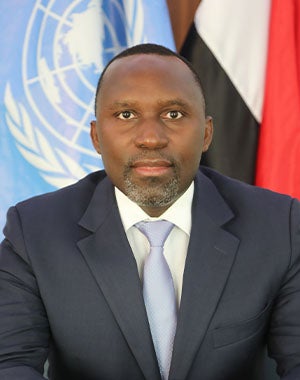 Nestor Owomuhangi
Mr. Nestor Owomuhangi, a national of Uganda, brings with him more than 25 years of experience in the humanitarian and development sector, much of which has been with UNFPA and the UN system.
Nestor joined the UNFPA Yemen Country Office in July 2018 as Deputy Representative, working to spearhead UNFPA's response to the world's largest humanitarian crisis. In this role, Nestor helped to successfully position UNFPA as a key humanitarian player by among other initiatives, ensuring UNFPA's leadership of the Rapid Response Mechanism through which UN's frontline assistance is provided to populations fleeing fighting, and in helping to mobilize over US$90 million in resources for UNFPA's humanitarian response within two years.
Nestor is no stranger to the Arab region having served as Deputy Representative for UNFPA Iraq Country Office from 2014 to 2018. In Iraq, Nestor helped to expand and manage a complex humanitarian and development operation including a historic humanitarian response for the liberation of Mosul City.
Prior to this, Nestor worked as the International Programme Specialist for the UNFPA Country Office in Lesotho from 2008 to 2014 and as a National Programme Officer at UNFPA Uganda Country Office from 1999, initially on secondment to UNHCR as a Reproductive Health Focal Point. Prior to joining the UN, Nestor has worked with various national institutions and international NGOs in Uganda.
Nestor holds a Master's Degree in Population and Reproductive Health from Makerere University, Kampala, Uganda.